Tomorrow is Halloween and if you haven't gotten into the spirit of things yet I would like to help.
For most people Halloween comes with many traditions.  Outside of the parties, costumes and trick or treating, movies, music and comics are as much a part of the season.  All the stations are playing horror movies, comics are zombify-ing up for the season and all those classic Monster Mash records are coming out of dusty bins.  The thing is, these are all the same things we see year after year.  I love the Halloween movies and doing the Transilvania Twist as much as the next ghoul but every so often you need a new infusion of blood.  Tradition can be a comforting and good thing but so is change.  Below are some of my recent favorites for the past couple years.  Fresh as a rotting corpse to add into your Halloween entertainment traditions.
A side note.  All of this things are available digitally whether it be Netflix Streaming, Comixology or Bandcamp, meaning they are easy to find, purchase and consume.
Tucker & Dale Vs. Evil 
This movie is a prime example of how a well made horror movie can mix with comedy.  Easily on par with Shaun of the Dead and just as clever, Tucker & Dale plays on the concept of the scary rural redneck in horror movies and how "city folk" perceive them.  Funny as all get out, gory through and trough and even touching in moments, Tucker & Dale is a great addition to any Halloween movie night.
The Innkeepers 
This movie sort of came and went without much noise and that is a darn shame.  Ti West previously made the awesome and highly underrated House of the Devil but The Innkeepers is a bit of a departure from the slow burn satanic romp.  It's still a slow burn horror movie in the classical style.  The movie allows suspense to build instead of just going balls to the wall every five minutes.  It helps that there are actually characters in this horror film that you don't immediately hate and want to see die.  This isn't a gore fest, instead it relies on tried and true horror tactics to unnerve and haunt you.
John Dies at the End 
Based on the book of the same name and directed but the great Don Coscarelli (Phantasm, Bubba Ho-Tep) John Dies at the End is a unique movie, as you would expect from Coscarelli.  Not your average horror film, or even average film at all.  It's more of a trip into the bizarre full of awesome characters, monsters and an all consuming inter – dimensional world destroyer.  A clever story and a good fun movie to sneak into the rest of your Halloween viewing.
Richard Corben's Edgar Allan Poe Series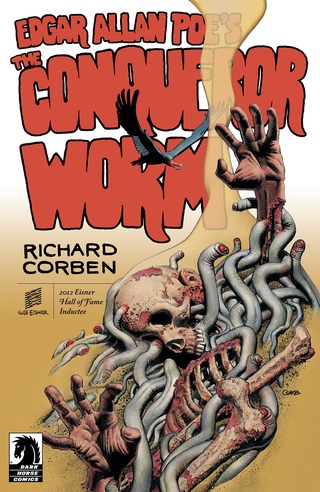 What could be more Halloween than Edgar Allan Poe?  Well how about the amazing and legendary artist Richard Corben adapting them into comic book form?  Corben has a long and amazing past working in comics but over the past two years he has been adapting classic Poe tales and the results have been breath taking.  He has done Conqueror Worm, The Fall of the House of Usher and released today, The Raven and The Red Death.  Corben's grisly and expressive art is the perfect compliment to Poe's work and for me, these are instant classics. All of these can be purchased digitally at Dark Horse Digital.
Eldritch
Written by Aaron Alexovich with art by Drew Rausch, Eldritch is comedic comic tale about siblings and their possession of an ancient power and what happens when you get in over your head.  The story is full of great characters, incredible black and white art and a fantastic humor that actually had me laughing out loud numerous times.  The story is unique and creative and the timing of the storytelling is impeccable.  Plus there are tons of black goo monsters and diatribes about science.  You can get issue #1 for 1 PENNY
direct from the creative team
or you can get the whole series on
Comixology
.
Helheim 
You may recognize writer Cullen Bunn from the awesome horror western comic The Sixth Gun.  Joined by artist Joelle Jones, Cullen lays out the horror/viking hybrid comic Helheim.  Spanning six issues, Helheim features a viking warrior killed and brought back to life via witchcraft and some Frankenstein-ing.  He is determined to stop an evil witch who plagues their viking village with all sorts of monsters and undead.  The premise sounds crazy, and it is.  The art is top notch and gruesome and the comic is just a roller coaster ride of creativity.  Check it out on
Comixology
.
Howling
Howling has released not one but two brutal horror themed death metal albums this year.  Earlier in the year they released a Beast Conceived and just this month Tear the Screams from Your Throat.  All of the songs are based on horror and horror movies.  I won't try to cover it up any, this is extreme death metal but if ever you are going to try something like this out, isn't Halloween the time?  Aren't sure about the bands horror pedigree?  Check out lead singer Vanessa Nocera's picks for her  
top 5 horror films
.  You can get both of their albums digitally via their
Bandcamp page
.
Ancient VVisdom
What is Halloween without a little satan worship?  Ancient VVisdom can help you with that.  While the players are from other metal bands, Ancient VVisdom plays a more stripped down acoustic/electric style of music.  Steeped in evil and satanic themes, if the brutal death metal is too much for you I suggest checking out Ancient VVisdom to evil up this Halloween season.  Their newest record, Deathlike is available with their first record on their
Bandcamp page
.
Witch Mountain 
Witch Mountain oozes the fall season with their music.  Steeped in a 70's style occult rock style dressed up in doom, Witch Mountain may claim your soul but after hearing their music you will be glad to give it over.  The vocals are bewitching and the music is just the right mood to get you in the spirit of things.  Both of their recent albums are available on their
Bandcamp page
.
That's it from me for this Halloween.  Hopefully you can find some new additions for your Halloween fun.  What are some of your Halloween favorites?  What are some new favorites you've discovered?  Let me know in the comment section below.
Happy Halloween!